THE place for YOUR Water Treatment Products
Call: 01948 710699
Mon-Thu 9am-5pm | Fri 9am-4.30pm
Answer phone service at all other times
We'll be closed from 4.30pm on Monday 23rd Dec '19 until 9am on Thursday 2nd Jan '20.

Enquiries can be emailed via the link on the left or you can call and leave a message.
EXPERT ADVICE • QUALITY PRODUCTS • OUTSTANDING SERVICE
ALL DEPARTMENTS ...

OUR BRANDS ...
2 Wem Moss
Bettisfield
Whitchurch
Shropshire
SY13 2LT
Wrekin HF10BB-PP High Flow Fillter Housing with Refillable Polyphosphate full details...
Wrekin HF10BB-PP High Flow Fillter Housing with Refillable Polyphosphate full details...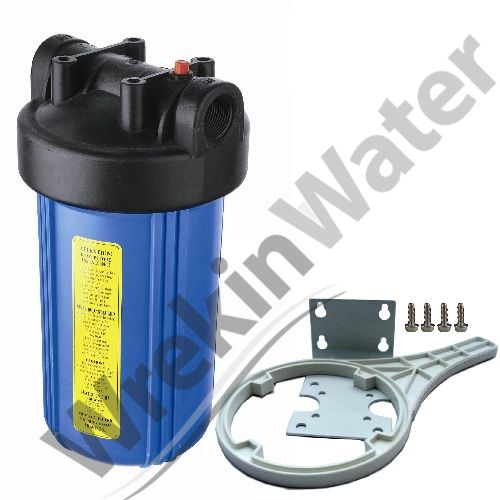 Top Quality High Flow Filter Housing

Comes Complete with Refillable Cartridge

1'' female inlet/outlet and Pressure Release valve

Complete with Spanner & Metal Fixing Bracket

Cartridge holds approximately 1500g of PP
Related products:-
Scale Inhibitors - Click to see all
Phosphate Dosing - Click to see all
Additional info:-
Product options:-
Code
Details

*Price Incl VAT

HF10BB-PP
High Flow Polyphosphate Dosing System HF10BB-PP
£125.00


(£104.17 Ex VAT)
*Incl. standard delivery to all UK Mainland Postcodes. (Excl. Highlands)
If you are ordering from outside the UK, please call us on +44(0)1948 710699 for our most competitive shipping rate
Product details:-
High flow filter housing with 1" inlet and outlet ports
The HF10BB Housing accepts any 10" High Flow cartridge. The unit has an air release mechanism to relieve water pressure when changing cartridges. A support bracket is supplied as standard. It is recommended that isolating valves are fitted either side of the unit so that the supply of water to the housing may be turned off when a filter change is required. The installer needs to supply the fittings MI 1" x 22mm or 1" x 28mm Couplers for connection to adjoining pipework. Fit on cold water lines only. Protect from freezing.

SPECIFICATIONS
Max flow through empty housing: * Approx 76 l/m at 3 bar (42psi)
Min pressure:- Approx 2 Bar (28psi)
Max pressure:- 6.8 Bar (100 psa)
Max water temp:- 20oC Water, 30oC ambient
Diameter:- 182 mm
Height:- 350 mm
Inlet / Outlet:- 1'' Bsp female
Housing material:- Polypropylene
Colour:- Blue
Filters cartridges:- 10 inch nominal
Includes:-
Spanner
Built in pressure relief valve
Metal fixing bracket


* Flow rate through housing
The maximum flow rate shows the flow through an empty housing. The flow will decrease
according to the type of cartridge installed and the water supply pressure.

Registered Office:
2 Wem Moss
Bettisfield
Whitchurch
Shropshire
SY13 2LT
Prices incl. VAT & delivery to all UK Mainland Postcodes. (Excl. Highlands)